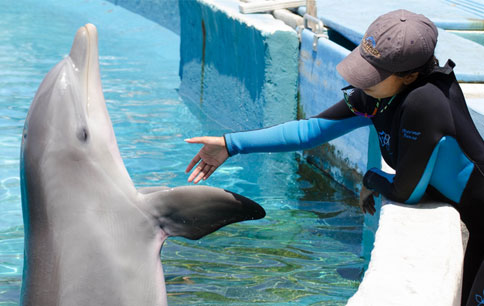 Dolphin Aloha
---
A 20 minute hands-on Private Program, participants will learn,play and touch a bottlenose dolphins during a swift and exciting interaction. … 
$90.00
Description
---
Dolphin Aloha "Touch" Program, Briefing Time with Trainer, Admission, Dolphin Show, Sea Lion, Animal Exhibits and Transportation (Waikiki Beach Only).
Dolphin Aloha & Sea Life Park
Oahu Island, Hawaii
– $89.99* per Participant (1 year+)
Observers
– $39.99* per Adult Observer (13 years +)
– $24.99* per Child Observer (up to 12 yrs)
A 20 minute hands-on program, participants will learn about bottlenose dolphins during a quick and exciting interaction.
Approximately 1 hour with the Dolphins, Presentation, & Photo Lab.
This an Out of Water Dolphin Interaction. You WILL NOT go into the water with the dolphins at all during this program.
Also includes shows and animal exhibits within the park.
The minimum age to participate in the Dolphin Encounter program is 1 year old.
Any Child or Infant within (1 years to 12 years old), must have one paid Adult participant (An Adult is anyone 18 years or older with the child).
1 Adult participant per group of 4 children.
Infants: Free (1 year to 2 years ) 1 Adult per Infant (1 – 2 years old).
No Jewelry, No Body Piercings, No Bracelets, No Nail Jewelry, No Cameras, No Hats, No Head Coverings, No Outside Objects in the water with the dolphins
No Pregnant Women
Tickets and Pick Up Time or Complete Written Directions will be emailed to you
Free Transportation for all Participants and observers from Selected Waikiki Hotels.  ( You must state on reservation form whether you want transportation or not).
*Prices Do Not Include Hawaiian Sales Tax of 4.712%